Over 70,000 votes cast in Best of Barren contest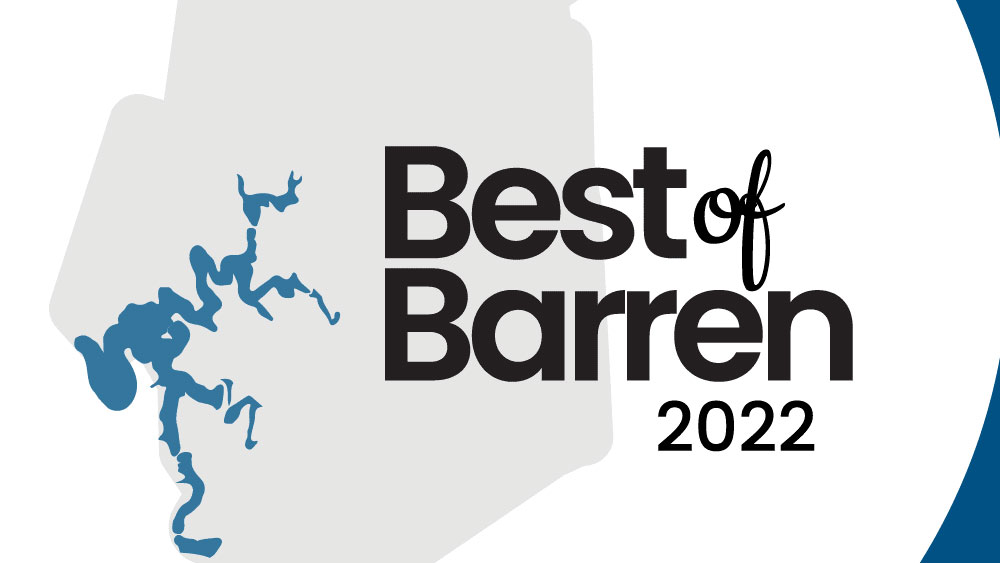 GLASGOW — Over 70,000 votes were cast throughout this year's Best of Barren poll, which sought to highlight the best businesses and services across Barren County. Winners were announced Friday.
Voters were allowed to vote once per day. The contest included an initial nomination period and then voting period. The contest ended May 31.
Food & Drink:
Overall Restaurant: Garcia's Grill
Breakfast: Cowboy's Country Cookin'
Mexican Restaurant: Garcia's Grill
Drive-Thru: Freddy's Frozen Custard
Barbecue: Big Man's BBQ
Pizza: Papa John's
Asian: Family Style Chicken & Seafood
Country Cooking: Cowboy's Country Cookin'
Catering Service: Afton Bunch – Local Roots
Coffee Shop: Southern Cup Coffee & Café
Food Truck: She Sells Shrimp
Grocery Store: Phillips IGA
Liquor Store: Barren River Beverages
Bakery: Best Donuts
Bed & Breakfast: Hall Place Bed & Breakfast
Bar: Yancey's Gastropub and Brewery
Professional Services:
Place to work: South Central Bank
Attorney: Brian Pack
Auctioneer: Dakota R. Elmore
Auto Repair: Diamond Auto Collision
Bank: South Central Bank
Bank Teller: Michele Waldridge
Carpenter: Barry Jones Contracting
Electrician: Bruce Groce
Funeral Home: A.F. Crow & Son Funeral Home
Excavating: JB Contracting
Heating & Cooling Contractor: Eaton Refrigeration Service
Insurance Agency: Calvert & Nunn Insurance
Insurance Agent: Chris Short
Greenhouse: Luxury Garden Center
Landscape Service: Luxury Garden Center
Industry/Factory: 3A Composites USA
Real Estate Agent: Kole Wilkinson
Real Estate Agency: Elmore Realty & Auction
Painting Contractor: Wyatt's Painting
Plumber: Botts Plumbing & Sanitation
Roofing Company: DMR Roofing
Pet Groomer: Carol's Pet Grooming
Veterinarian: Animal Clinic of Glasgow
Photographer: Photography by Autumn
Shooting Range: Barren River Rod & Gun Club
Entertainer: Black Stone Cherry
Mortgage Lender: South Central Bank
Waste Removal: Lakeside Recycling
Live Entertainment Venue: The Grove
Beef Producer: Siddens Farm
Poultry Producer:
Dairy Producer: Legacy Dairy
Pork Producer: Moore Family Farms
Shopping:
Car Dealership: Don Franklin
Farm Equipment Supplier: Rural King
Flower Shop: All in Bloom Florist
Gift Shop: Touch of Trend
Boutique: Touch of Trend
Auto Salesperson: Bobby Lee Hurt
Gun Store: Fire Line Guns & Knives
Tire Shop: Glasgow Tire & Auto Center
Car Wash: Thoroughbred Express
Health & Beauty:
Doctor/Nurse Practitioner: Alysia Wheeler
Dentist: Dr. Matthew Riley
First Responder: Barren-Metcalfe Emergency Communication Center
Chiropractor: Active Health Chiropractic
Physical Therapy Clinic: TJ Samson Rehab & Sports Medicine
Fitness Center: The Barren County Family YMCA
Pharmacy: Ely Drugs Medical Supply
Long Term Care Facility: NHC HealthCare, Glasgow
Massage Therapist: Mary Christensen
Hair Salon: Debbie's
Barber Shop: Heritage '76 Shop and Salon
Barber: Amanda McCord
Nail Salon: Perfect Nails LLC
Dental Hygienist: Sally Long

link