Florida Gets Early Taste of Hurricane Season
Floridians witnessed a scene of submerged cars stuck in floodwaters in Miami Saturday morning as the state got an early taste of hurricane season while bracing for potential Tropical Storm Alex.
Prestige Auto Towing in Miami reportedly received from 12 to 20 calls from drivers whose cars were submerged in the floodwaters.
"A lot of flooding in Brickell, downtown and North Miami. A Ferrari was floating. A lot of water damage. A lot of cars (with) water damage," Robert Fernandez, an employee at the company, told Weather.com.
The Miami Fire-Rescue Department posted a video online, that gained more than 200,000 views as of publication, showing cars submerged in rain waters, and warned residents to avoid driving through the floods.
"At this time @CityofMiamiFire is responding to multiple calls of cars stuck in the water. Please stay off the road and do not drive through floods," the Miami-Fire Rescue Department wrote on Twitter early Saturday morning.
The National Hurricane Center (NHC) issued advisories on Potential Tropical Cyclone One, which is the first tropical system of the Atlantic hurricane season, the Orlando Sentinel reported Saturday.
The storm system caused heavy rainfall as it crossed the Gulf of Mexico, leaving at least two people dead in Cuba on Friday, according to the Weather Channel. The power grid was also damaged as 50,000 power outages were reported late Friday night, according to the country's Civil Defense Organization.
The NHC forecasts that the system might potentially become Tropical Storm Alex after it leaves Florida. However, tropical storm warnings for all of southern Florida were issued, The Weather Channel reported.
Tropical Storm Alex, which will be a heavily sheared system, is expected to pass through a track across South Florida and into the Atlantic, according to local station News 4 JAX.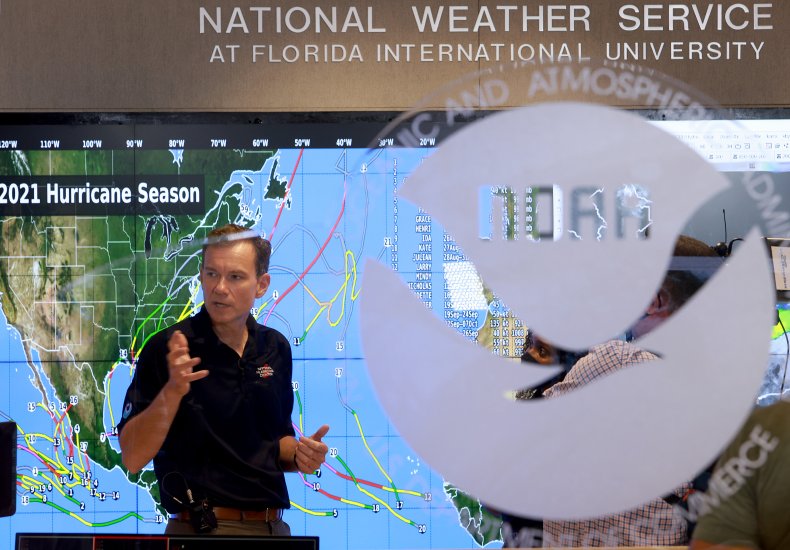 Meanwhile, the National Weather Service in Miami said that flash flood warnings for central Miami-Dade County will end at noon on Saturday, adding that thunderstorms caused heavy rains and flash flooding in the area, and that between six and 11 inches of rain have fallen as of 8:51 a.m. EDT.
"Additional rainfall amounts of 2 to 5 inches are possible in the warned area," the National Weather Service said, adding that the severe weather impacted urban areas, highways, streets, and areas with poor drainage.
"This is a dangerous and life-threatening situation. Traveling during these conditions is not recommended. It's better to wait. Turn around, don't drown," the City of Miami warned on Twitter while sharing flash flood warnings reported by the National Weather Service Miami-South Florida.
The city saw 9.73 inches of rainfall over the past 72 hours, AccuWeather reported Saturday morning. Cars began to be stuck and stranded in floodwaters after almost 1-2 feet of rain.
The Miami-Fire Rescue Department said in another post on Twitter that it deployed vehicles to help people stranded in the submerged cars.
"Right now @CityofMiamiFire has 6 High Water Vehicles responding to people in their cars stranded in flood waters. We continue to urge you to not drive or walk through standing water. Be safe and please allow us to assess the situation," the Miami-Fire Rescue tweeted.
AccuWeather reported that even though the rain will stop Saturday morning in southwest Florida, some areas are expected to see continued flooding.

link