2022 L.A. Auto Show: The 7 most significant EV reveals
While it wasn't a stellar showing of new-car debuts, there were still some newsworthy, notable electrified newcomers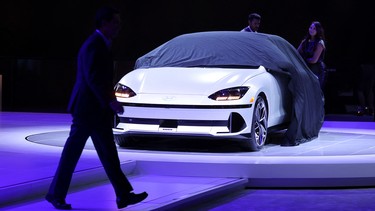 Article content
Over the course of the last half-decade or so, the Los Angeles Auto Show has been the de facto exposition for reveals of electric vehicles. That's partly because California has a relatively high adoption rate of EVs; and also due to the fact the show's late fall date on the calendar sets it up well for reveals of next year's models.
Article content
This year's show, which runs at the L.A. Convention Center until November 27, had a decent number of new EVs, but no real show-stoppers. Here are the highlights.
Toyota
While not a full-electric, the Toyota Prius is arguably the most important electrified vehicle of the twenty-first century. It was a quarter-of-a-century ago when it debuted as the world's first mass-produced hybrid, and today is the top-selling hybrid in history, with more than five million sold.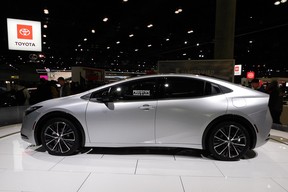 So, the global reveal of the fifth generation is a big deal. The 2023 Prius lineup includes totally redesigned hybrid and plug-in hybrid models. Notable updates include a smooth and slippery exterior, sportier tuning, and a wider set of safety features. The standard hybrid model produces either 194 or 196 horsepower; while the Prime boasts 220 hp and a larger battery, which accounts for a 50-per-cent boost in electric range, up into the 60-kilometre range.
Article content
The Toyota booth also offered a glimpse into its all-electric future with the BZ Compact SUV concept. Toyota's BZ line-up – it stands for "Beyond Zero" – is already realized with the BZ4X crossover production vehicle, so the compact SUV is a design exercise, showing where the BZ vehicles are headed next. Notable is an aggressive stance thanks to the four wheels pushed right out to the corners; and a curved dash display that is mounted over the cabin's centre stack. And there's an in-car personal assistant named "Yui," which can respond to commands from the front or rear passengers.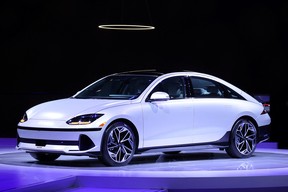 Ioniq
Hyundai's all-electric division, Ioniq, showcased its all-new "streamliner," the Ioniq 6, in its North American debut. The sedan is the second model to use Hyundai's Electric-Global Modular Platform (E-GMP) that allows for dual motors, more interior space, and optimized performance. According to the automaker, the Ioniq 6 achieves an estimated driving range of up to 547 kilometres; and best-in-class 800-volt ultra-fast charging that can charge the battery from 10 to 80 per cent in 18 minutes.
Article content
That "streamliner" reference underscores the slippery shape of the four-door, its drag coefficient of 0.22 the lowest of any Hyundai vehicle ever produced. There are a number of powertrain configurations available. You can pair the 77.4-kWh battery pack with two electric motor layouts, either with rear-wheel- or all-wheel-drive.
L.A. Auto Show Roundup: 2024 Subaru Impreza, Porsche 911 Dakar, and more

2022 LA Auto Show: Hits and misses
The top-of-the-line dual-motor setup is an all-wheel-drive (AWD) option producing a combined power output of 320 hp and 446 lb-ft of torque. So outfitted, the sedan can go from zero to 100 km/h in less than five seconds. The single-rear-motor layout offers 225 horsepower and 258 lb-ft of torque. When equipped with a single-rear-motor and the 77.4-kWh battery, the maximum driving range on a single charge is an estimated 547 kilometres. The maximum range of the dual-motor AWD models is estimated at 499 kilometres.
Article content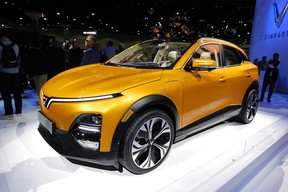 VinFast
On the same week the Vietnamese automaker opened its first retail outlet in Canada — in Toronto's Yorkdale Shopping Centre — it unveiled two all-new SUVs at L.A. The VF 6 and VF 7 join the larger VF 8 and VF 9 in the ever-expanding all-electric stable of the new company. This was the North American debut for both, as they were first shown at this year's Paris Motor Show.
The crossover-sized VF 6 will produce 176 horsepower in Eco trim; and 201 hp in Plus trim. The slightly larger VF 7 matches that 201 hp in its base Eco trim, and in Plus trim has an output of 349 hp. Plus trim offers all-wheel-drive, vegan leather interior, and panoramic glass roofs in both five-passenger models. If you notice a difference in exterior designs between these two newcomers from their larger stablemates, that because they were designed by Torino Design — Pininfarina designed the VF 8 and VF 9. Range estimates, recharge speeds, and pricing of the VF 6 and VF 7 have not been released.
Article content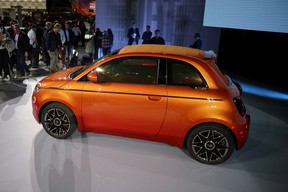 Fiat
It looks like Canadians will finally get a chance to buy a fully electrified Fiat 500. Parent company Stellantis showed its all-new 500e at the show in each model trim available: Giorgio Armani, Kartell, and Mai Troppo. Sustainable design, sustainable fashion, and sustainable luxury are at the heart of the new 500e. The original 500e, sold in Europe and a handful of states in the U.S., was simply a gasoline version of the car converted with an all-electric powertrain.
This new model is a built-from-the-ground-up EV, and while specs are few and far between, we do know that it will come with an 85-kW battery pack, a range of about 240 kilometres, and a recharging capability, according to the company, of 48 km in five minutes. It will be equipped with a driver assistance system that provides "Level 2+" features such as lane centering and adaptive cruise control, traffic-sign recognition, blind-spot detection, and 360-degree parking. The new Fiat 500e will also come with the UConnect 5 connected car system and a 10.25-inch touchscreen. You'll have to wait to get your hands on this fun and fashionable little EV, however, as Stellantis says the new 500e is expected to go on sale in North America in early 2024.
Article content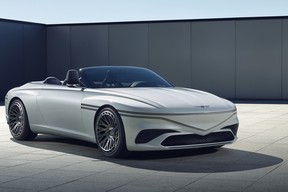 Genesis
If there was a hit of the show, at least from a design perspective, it was the X Convertible from South Korean luxury maker Genesis. The sensuous drop-top completes the so-called "X Trilogy," joining the two-door grand tourer X Concept and the X Speedium Coupe concept, a fastback inspired by the Inje Speedium race track in Korea. The trio represent Genesis' Athletic Elegance design language, and showcase an evolution of the Genesis Crest Grille, which evolved into a lighting signature to signify its electric powertrain.
The four-door convertible shares the EV architecture and powertrain of its trilogy stablemates, and features a folding hardtop roof with and integrated transparent moonroof. Its striking exterior design is achieved by the incorporation of a long hood, generous short front overhangs, and a long wheelbase. Muscular blisters around the wheels form an athletic 'Coke-bottle' design and integrate into an elegant silhouette when viewed from the side. Genesis has some of the best exterior designs of any production cars currently, and if the X Convertible is any indication, the automaker could hold onto that title for some time to come.
Article content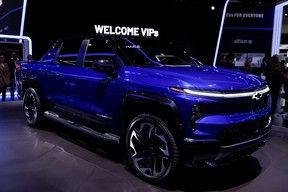 General Motors
Nothing really new to report in terms of EV reveals at the show by GM, but it was sort of striking to see no fewer than five Chevrolet EVs prominently displayed on the showroom floor. The Bolt and Bolt EUV have been out now for a year, and they were joined by the all-new and coming-soon all-electric versions of the Blazer, Equinox, and Silverado.
In contrast, over at Ford's booth, the sole EVs were the Mustang Mach-E and the F-150 Lightning. Both impressive and excellent all-electrics, to be sure, but it sort of felt like Ford is standing still on the EV front while its Detroit-based counterpart is leading the way.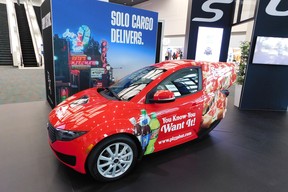 ElectraMeccanica
One final note, a nice bit of EV CanCon at the L.A. Convention Centre. Vancouver-based ElectraMeccanica has a prominent piece of real estate at the show, located in the main lobby of the West Hall, with a handful of Solos on display, including a Pizza Hut-liveried delivery vehicle. Despite being founded and headquartered in Canada, the company has still not satisfied Canadian regulators to the point it can sell the car here, as its single-seater has yet to have an airbag system incorporated into its design. The company has manufacturing facilities in China and Arizona, and the U.S. plant is up and running and producing Solos for U.S. customers.
link